Are you living in Japan and want to start your own website using a web host in Japan? If your website is targeting viewers from Japan and the Asian region, then I recommend you use a web host in Japan.
I use HostGator and BlueHost (US based hosting services) for my web hosting needs but the main problem I had with them was latency and SEO (Search Engine Optimization).
With latency, there would be on average an additional 3-7 second delay for users living in Japan to see my websites. The reason is because web requests coming from Japan will have to reroute to the US based servers and back to Japan.

In terms of SEO, Google typically recommends sites to display within less than 5 seconds. When you host your site abroad, the latency (time delay) doesn't help with that. To add to that, Google's Matt Cutts recommends that the hosting server of a website should be in the country it is targeting. Don't believe me? Check out Matt Cutts stating that himself! (http://www.youtube.com/watch?v=hXt23AXlJJU)
I did see a big jump in rankings and my traffic after migrating my site from the US to Japan so I do believe that if you live in Japan and are targeting people who live in Japan, switching to a local based server can help with your SEO and search traffic!
So which Web Hosting Service do I recommend in Japan?
There are many hosting providers but of all of them, I recommend: XSERVER
Why XSERVER?
Reasonable pricing ( starting from 12,000 yen a year which is about $120.00 USD a year) on the X10 (1,000 yen a month!).
They have been around for over 5 years and have served over 130,000 clients.
They are very reliable almost no down time and my sites load FAST!
Automated CMS installations for WordPress and other CMSs. You can use Joomla and Drupal but you have to install it yourself!
30 MYSQL database per account ( for the X10 plan). If you want more, upgrade to X20 or X30 plans that offer up to 50 MYSQL databases!
You get 200 GB of space on the X10 plan!!! If you want more just upgrade to X20 plan for 300GB and X30 plan for 400GB of hard drive space!
The best part is a bandwidth limit of 50GB per day! and this is only for the lowest plan they have!
I have used XSERVER and have no regrets in terms of speed, reliability, and costs! I use several X10 plans that can contain up to 30 sites all using a CMS and I never had any problem!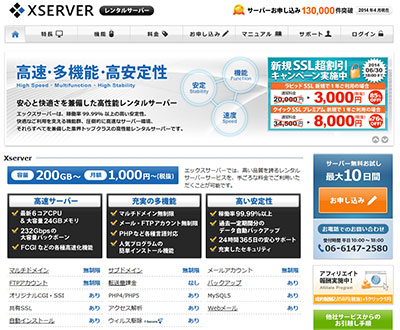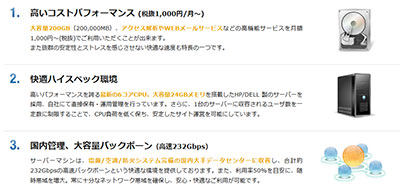 So What's the Catch with XSERVER?
There's only three catches I can think of! (Hey… every good thing always has a catch!)
The user interface is in Japanese only.
The support is only in Japanese. (this could change in the near future)
The first two can be a problem if you can't read or speak Japanese but this site will definitely help with that.
The last problem of not having CPanel is not a big problem at all because you don't really need a Cpanel user interface!
Check out their site here and check out these other resources to help you out with registering a plan with them.
レンタルサーバー Xserver